Links and material for 75 Masterpieces Every Christian Should Know
[Scroll down to see earlier chapters]
Chapter 18:  The Holy Sonnets
Links to all 19 of Donne's Holy Sonnets can be found here:  https://en.wikisource.org/wiki/Holy_Sonnets
Other poems by John Donne
The Flea
Mark but this flea, and mark in this,
How little that which thou deniest me is;
It sucked me first, and now sucks thee,
And in this flea our two bloods mingled be;
Thou know'st that this cannot be said
A sin, nor shame, nor loss of maidenhead,
    Yet this enjoys before it woo,
    And pampered swells with one blood made of two,
    And this, alas, is more than we would do.
Oh stay, three lives in one flea spare,
Where we almost, nay more than married are.
This flea is you and I, and this
Our marriage bed, and marriage temple is;
Though parents grudge, and you, w'are met,
And cloistered in these living walls of jet.
    Though use make you apt to kill me,
    Let not to that, self-murder added be,
    And sacrilege, three sins in killing three.
Cruel and sudden, hast thou since
Purpled thy nail, in blood of innocence?
Wherein could this flea guilty be,
Except in that drop which it sucked from thee?
Yet thou triumph'st, and say'st that thou
Find'st not thy self, nor me the weaker now;
    'Tis true; then learn how false, fears be:
    Just so much honor, when thou yield'st to me,
    Will waste, as this flea's death took life from thee.
Source: The Norton Anthology of Poetry (1996)
The Bracelet
Upon the Loss of His Mistress's Chain, for Which He Made Satisfaction
N

OT

 that in colour it was like thy hair,
For armlets of that thou mayst 1 let me wear;
Nor that thy hand it oft embraced and kiss'd,
For so it had that good, which oft I miss'd;
Nor for that silly old morality,
        5
That, as these links were knit, our love 2 should be,
Mourn I that I thy sevenfold chain have lost;
Nor for the luck sake; but the bitter cost.
O, shall twelve righteous angels, which as yet
No leaven of vile solder did admit;
        10
Nor yet by any way have stray'd or gone
From the first state of their creation;
Angels, which heaven commanded to provide
All things to me, and be my faithful guide;
To gain new friends, to appease great enemies; 3
        15
To comfort my soul, when I lie or rise;
Shall these twelve innocents, by thy severe
Sentence, dread judge, my sin's great burden bear?
Shall they be damn'd, and in the furnace thrown,
And punish'd for offences not their own?
        20
They save not me, they do not ease my pains,
When in that hell they're burnt and tied in chains.
Were they but crowns of France, I carèd not,
For most of these their country's natural rot, 4
I think, possesseth; they come here to us
        25
So pale, so lame, so lean, so ruinous.
And howsoe'er French kings most Christian be,
Their crowns are circumcised most Jewishly.
Or were they Spanish stamps, still travelling,
That are become as Catholic as their king;
        30
Those unlick'd bear-whelps, unfiled pistolets,
That—more than cannon shot—avails or lets;
Which, negligently left unrounded, look
Like many-angled figures in the book
Of some great conjurer 5 that would enforce
        35
Nature, as these do justice, from her course;
Which, as the soul quickens head, feet and heart,
As streams, like veins, run through th' earth's every part,
Visit all countries, and have slily made
Gorgeous France, ruin'd, ragged and decay'd,
        40
Scotland, which knew no state, proud in one day,
And mangled seventeen-headed Belgia.
Or were it such gold as that wherewithal
Almighty chemics, from each mineral
Having by subtle fire a soul out-pull'd,
        45
Are dirtily and desperately gull'd;
I would not spit to quench the fire they're in,
For they are guilty of much heinous sin.
But shall my harmless angels perish? Shall
I lose my guard, my ease, my food, my all?
        50
Much hope which they should nourish will be dead;
Much of my able youth, and lustihead
Will vanish; if thou love, let them alone,
For thou wilt love me less when they are gone;
And be content that some loud squeaking crier,
        55
Well-pleas'd with one lean thread-bare groat for hire,
May like a devil roar through every street,
And gall the finder's conscience, if he meet. 6
Or let me creep to some dread conjurer,
That with fantastic scenes fills full much paper;
        60
Which hath divided heaven in tenements,
And with whores, thieves, and murderers stuff'd his rents
So full, that though he pass them all 7 in sin,
He leaves himself no room to enter in.
But if, when all his art and time is spent,
        65
He say 'twill ne'er be found; yet be content;
Receive from him that doom 8 ungrudgingly,
Because he is the mouth of destiny.
Thou say'st, alas! the gold doth still remain,
Though it be changed, and put into a chain.
        70
So in the first fallen angels resteth still
Wisdom and knowledge, but 'tis turn'd to ill;
As these should do good works, and should provide
Necessities; but now must nurse thy pride.
And they are still bad angels; mine are none;
        75
For form gives being, and their form is gone.
Pity these angels yet; their dignities
Pass Virtues, Powers, and Principalities.
But thou art resolute; thy will be done;
Yet with such anguish, as her only son
        80
The mother in the hungry grave doth lay,
Unto the fire these martyrs I betray.
Good souls—for you give life to everything—
Good angels—for good messages you bring—
Destined you might have been to such an one,
        85
As would have loved and worshipp'd you alone;
One that would suffer hunger, nakedness,
Yea death, ere he would make your number less;
But, I am guilty of your sad decay;
May your few fellows longer with me stay.
        90
But O! thou wretched finder whom I hate
So, that I almost pity thy estate,
Gold being the heaviest metal amongst all,
May my most heavy curse upon thee fall.
Here fetter'd, manacled, and hang'd in chains,
        95
First mayst thou be; then chain'd to hellish pains;
Or be with foreign gold bribed to betray
Thy country, and fail both of it and thy 9 pay.
May the next thing thou stoop'st to reach, contain
Poison, whose nimble fume rot thy moist brain;
        100
Or libels, or some interdicted thing,
Which negligently kept thy ruin bring.
Lust-bred diseases rot thee; and dwell with thee
Itching desire, and no ability.
May all the evils that gold ever wrought;
        105
All mischief that all devils ever thought;
Want after plenty, poor and gouty age,
The plagues of travellers, love, marriage 10
Afflict thee, and at thy life's last moment,
May thy swollen sins themselves to thee present.
        110
  But, I forgive; repent thee, honest man!
Gold is restorative; restore it then:
But if from it thou be'st loth to depart, 11
Because 'tis cordial, would 'twere at thy heart.
Chapter 19: The Temple
Easter Wings
Lord, who createdst man in wealth and store,
      Though foolishly he lost the same,
            Decaying more and more,
                  Till he became
                        Most poore:
                        With thee
                  O let me rise
            As larks, harmoniously,
      And sing this day thy victories:
Then shall the fall further the flight in me.
My tender age in sorrow did beginne
      And still with sicknesses and shame.
            Thou didst so punish sinne,
                  That I became
                        Most thinne.
                        With thee
                  Let me combine,
            And feel thy victorie:
         For, if I imp my wing on thine,
Affliction shall advance the flight in me.
The Altar
A broken ALTAR, Lord, thy servant rears,
Made of a heart and cemented with tears;
Whose parts are as thy hand did frame;
No workman's tool hath touch'd the same.
A HEART alone
Is such a stone,
As nothing but
Thy pow'r doth cut.
Wherefore each part
Of my hard heart
Meets in this frame
To praise thy name.
That if I chance to hold my peace,
These stones to praise thee may not cease.
Oh, let thy blessed SACRIFICE be mine,
And sanctify this ALTAR to be thine.
Prayer (I)
Prayer the church's banquet, angel's age,
God's breath in man returning to his birth,
The soul in paraphrase, heart in pilgrimage,
The Christian plummet sounding heav'n and earth
Engine against th' Almighty, sinner's tow'r,
Reversed thunder, Christ-side-piercing spear,
The six-days world transposing in an hour,
A kind of tune, which all things hear and fear;
Softness, and peace, and joy, and love, and bliss,
Exalted manna, gladness of the best,
Heaven in ordinary, man well drest,
The milky way, the bird of Paradise,
Church-bells beyond the stars heard, the soul's blood,
The land of spices; something understood.
Chapter 20 Agnus Dei
The Crucifixion of Christ

Saint Serapion
Crucified Christ Contemplated by a Painter
Chapter 15:  The Procession to Calvary
Port of Naples:
https://www.pictorem.com/3380/Port%20of%20Naples%20by%20Pieter%20Bruegel.html
Battle between Carnival and Lent
Children's Games
Flemish Proverbs
The Parable of the Blind
Flight into Egypt
Parable of the Sower
Census at Bethlehem
Chapter 16: The Burial of the Count of Orgaz
The Assumption of the Virgin
Fray Hortensio Felix Paravincino
View of Toledo
Christ on the Cross Adored by Two Donors
Revelation of John
Adoration of the Shepherds
Chapter 17: The Incredulity of Saint Thomas
The Supper at Emmaus
The Calling of St. Matthew
The Taking of Christ
The Conversion of St Paul
Crucifixion of St. Peter
David and Goliath
Chapter 6:  The Divine Comedy
For a summary of the plot and additional information on Dante, go to Schmoops.com
Excerpt from The Inferno (translation by Robert and Jean Hollander)
The pilgrim has lost his way in a woods where he meets Virgil who tells the pilgrim he will show him hell.
'Therefore, for your sake, I think it wise you follow me: I will be your guide, leading you, from here, through an eternal place where you shall hear despairing cries and see those ancient souls in pain as they bewail their second death.  Then you shall see the ones who are content to burn because they hope to come, whenever it may be, among the blessed. Should you desire to ascend to these, you'll find a soul more fit to lead than I: I'll leave you in her care when I depart.  For the Emperor who has His seat on high wills not, because I was a rebel to His law, that I should make my way into His city. In every part He reigns and there He rules. There is His city and His lofty seat. Happy the one whom He elects to be there!' And I answered: 'Poet, I entreat you by the God you did not know, so that I may escape this harm and worse, lead me to the realms you've just described that I may see Saint Peter's gate and those you tell me are so sorrowful.' Then he set out and I came on behind him….
THROUGH ME THE WAY TO THE CITY OF WOE, THROUGH ME THE WAY TO EVERLASTING PAIN,  THROUGH ME THE WAY AMONG THE LOST. JUSTICE MOVED MY MAKER ON HIGH. DIVINE POWER MADE ME,  WISDOM SUPREME, AND PRIMAL LOVE. BEFORE ME NOTHING WAS BUT THINGS ETERNAL, AND ETERNAL, I ENDURE. ABANDON ALL HOPE, YOU WHO ENTER HERE.
These words, dark in hue, I saw inscribed over an archway. And then I said: 'Master, for me their meaning is hard.' And he, as one who understood: 'Here you must banish all distrust, here must all cowardice be slain. We have come to where I said you would see the miserable sinners who have lost the good of the intellect.' And after he had put his hand on mine with a reassuring look that gave me comfort, he led me toward things unknown to man. Now sighs, loud wailing, lamentation resounded through the starless air, so that I too began to weep. Unfamiliar tongues, horrendous accents, words of suffering, cries of rage, voices loud and faint, the sound of slapping hands— all these made a tumult, always whirling in that black and timeless air,  as sand is swirled in a whirlwind. And I, my head encircled by error, said: 'Master, what is this I hear, and what people  are these so overcome by pain?' And he to me: 'This miserable state is borne by the wretched souls of those who lived without disgrace yet without praise. They intermingle with that wicked band of angels, not rebellious and not faithful to God, who held themselves apart. Loath to impair its beauty, Heaven casts them out, and depth of Hell does not receive them lest on their account the evil angels gloat.' And I: 'Master, what is so grievous to them, that they lament so bitterly?' He replied: 'I can tell you in few words. 'They have no hope of death, and their blind life is so abject that they are envious of every other lot. The world does not permit report of them. Mercy and justice hold them in contempt. Let us not speak of them— look and pass by.'
Dante. The Inferno (The Divine Comedy series Book 1) (Kindle Locations 1336-1463). Knopf Doubleday Publishing Group. Kindle Edition.
Excerpt from Paradiso
The pilgrim meets a woman he once knew now dwelling in Paradise but who is in one of the lower ranks of the blessed due to some errors in her earthly life.  He asks her if she is envious of those above her. She replies:
'Our affections, which are inflamed only when they please the Holy Spirit, take joy in their adherence to His plan, and this our lot, which seems so very low, is given us because of vows neglected and, in part, no longer valid.' Then I said to her: 'From your transfigured faces shines forth a divinity I do not know, and it transforms the images I can recall. That is why my memory worked so slowly, but now what you have said has helped me and I more readily recall your features. But tell me, do you, who are here content, desire to achieve a higher place, where you might see still more and make yourselves more dear?' Along with the other shades, she smiled, then answered me with so much gladness she seemed alight with love's first fire: 'Brother, the power of love subdues our will so that we long for only what we have and thirst for nothing else. If we desired to be more exalted, our desires would be discordant with His will, which assigns us to this place. That, as you will see, would not befit these circles if to be ruled by love is here required and if you consider well the nature of that love. No, it is the very essence of this blessèd state that we remain within the will of God, so that our wills combine in unity. Therefore our rank, from height to height, throughout this kingdom pleases all the kingdom, as it delights the King who wills us to His will. 'And in His will is our peace.  It is to that sea all things move, both what His will creates and that which nature makes.'
Dante. Paradiso (The Divine Comedy series Book 3) (Kindle Locations 1468-1555). Knopf Doubleday Publishing Group. Kindle Edition.
Click here to read the full Inferno online
Click here to read Purgatory online
Click here to read Paradise online
A map of Dante's Inferno:
Chapter 8:  The Scrovegni Chapel Frescos
   The exterior
 Cimabue's "Virgin Enthroned with Angels"
    Giotto's "Madonna and Child"
  Giotto's Betrayal of Jesus
   close-up
  Giotto's "St. Francis Preaching to the Birds"
  Giotto's "St. Francis Receiving the Stigmata"
Chapter 9  "The Holy Trinity Icon"
  Icon of Luke painting Mary
Chapter 10:  The Adoration of the Lamb
  Cathedral of St. Bavo in Ghent
  Arnolfini Wedding Portrait
  Man in a Red Turban
  Madonna with Chancellor Rolin
Madonna in a church
---
Chap 1:  p. 22  Sarcophagi of Junius Bassus
another example of some art from a tomb in the catacombs.  This one from around 300 AD depicts Jesus as a Roman philosopher
Chapter 2   p. 26   The Book of Durrow
p. 26 The Lindisfarne Gospels
Chapter 3   Gregorian Chant
Youtube of the Spanish Benedictine Monks of Santo Dominigo de Silos:  https://youtu.be/x_FRuDCzlm0
An explanation and example of melismatic singing:  https://youtu.be/PRS2grauL4I
If you want to learn even more about Gregorian Chant, check out this youtube:  https://youtu.be/Igoh5kEqj3Y
Chapter 4 Ordo Virtumtum
Listen to an excerpt at https://youtu.be/wGPZWUNwLG0
A video of the entire production of Ordo Virtumtum:  https://youtu.be/zUMlhtoGTzY
A sampling of poems and prayers by Hildegard of Bingen   http://www.poetseers.org/spiritual-and-devotional-poets/christian/hildegard-of-bingen/hildp/
Hildegard de Bingen artwork:  https://www.wikiart.org/en/hildegard-of-bingen/all-works#!#filterName:all-paintings-chronologically,resultType:masonry
Chapter 5: Chartes Cathedral
For a pictorial tour:  https://www.youvisit.com/tour/makennaeccles
p. 36   "The Last Judgment"  
p. 36 Noah window
p.36 Rose window
p. 36  Hagia Sophia in Constantinople
p. 36 St. Sernin in Toulose, France
p. 38 Gargoyle pup
Chapter 6:  The Windows of Sainte-Chapelle
Exterior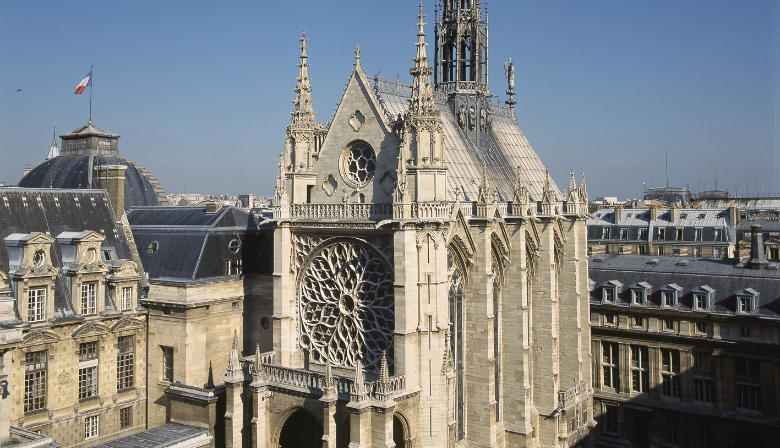 p. 40  Crown of thorns
p. 43  Stained glass window at Strasbourg
Stained glass at Siena Cathedral
William Morris stained glass
The Good Samaritan at Union Church by Marc Chagall