Links and material for 75 Masterpieces Every Christian Should Know
[Scroll down to see earlier chapters]
Chapter 6:  The Divine Comedy
For a summary of the plot and additional information on Dante, go to Schmoops.com
Excerpt from The Inferno (translation by Robert and Jean Hollander)
The pilgrim has lost his way in a woods where he meets Virgil who tells the pilgrim he will show him hell.
'Therefore, for your sake, I think it wise you follow me: I will be your guide, leading you, from here, through an eternal place where you shall hear despairing cries and see those ancient souls in pain as they bewail their second death.  Then you shall see the ones who are content to burn because they hope to come, whenever it may be, among the blessed. Should you desire to ascend to these, you'll find a soul more fit to lead than I: I'll leave you in her care when I depart.  For the Emperor who has His seat on high wills not, because I was a rebel to His law, that I should make my way into His city. In every part He reigns and there He rules. There is His city and His lofty seat. Happy the one whom He elects to be there!' And I answered: 'Poet, I entreat you by the God you did not know, so that I may escape this harm and worse, lead me to the realms you've just described that I may see Saint Peter's gate and those you tell me are so sorrowful.' Then he set out and I came on behind him….
THROUGH ME THE WAY TO THE CITY OF WOE, THROUGH ME THE WAY TO EVERLASTING PAIN,  THROUGH ME THE WAY AMONG THE LOST. JUSTICE MOVED MY MAKER ON HIGH. DIVINE POWER MADE ME,  WISDOM SUPREME, AND PRIMAL LOVE. BEFORE ME NOTHING WAS BUT THINGS ETERNAL, AND ETERNAL, I ENDURE. ABANDON ALL HOPE, YOU WHO ENTER HERE.
These words, dark in hue, I saw inscribed over an archway. And then I said: 'Master, for me their meaning is hard.' And he, as one who understood: 'Here you must banish all distrust, here must all cowardice be slain. We have come to where I said you would see the miserable sinners who have lost the good of the intellect.' And after he had put his hand on mine with a reassuring look that gave me comfort, he led me toward things unknown to man. Now sighs, loud wailing, lamentation resounded through the starless air, so that I too began to weep. Unfamiliar tongues, horrendous accents, words of suffering, cries of rage, voices loud and faint, the sound of slapping hands— all these made a tumult, always whirling in that black and timeless air,  as sand is swirled in a whirlwind. And I, my head encircled by error, said: 'Master, what is this I hear, and what people  are these so overcome by pain?' And he to me: 'This miserable state is borne by the wretched souls of those who lived without disgrace yet without praise. They intermingle with that wicked band of angels, not rebellious and not faithful to God, who held themselves apart. Loath to impair its beauty, Heaven casts them out, and depth of Hell does not receive them lest on their account the evil angels gloat.' And I: 'Master, what is so grievous to them, that they lament so bitterly?' He replied: 'I can tell you in few words. 'They have no hope of death, and their blind life is so abject that they are envious of every other lot. The world does not permit report of them. Mercy and justice hold them in contempt. Let us not speak of them— look and pass by.'
Dante. The Inferno (The Divine Comedy series Book 1) (Kindle Locations 1336-1463). Knopf Doubleday Publishing Group. Kindle Edition.
Excerpt from Paradiso
The pilgrim meets a woman he once knew now dwelling in Paradise but who is in one of the lower ranks of the blessed due to some errors in her earthly life.  He asks her if she is envious of those above her. She replies:
'Our affections, which are inflamed only when they please the Holy Spirit, take joy in their adherence to His plan, and this our lot, which seems so very low, is given us because of vows neglected and, in part, no longer valid.' Then I said to her: 'From your transfigured faces shines forth a divinity I do not know, and it transforms the images I can recall. That is why my memory worked so slowly, but now what you have said has helped me and I more readily recall your features. But tell me, do you, who are here content, desire to achieve a higher place, where you might see still more and make yourselves more dear?' Along with the other shades, she smiled, then answered me with so much gladness she seemed alight with love's first fire: 'Brother, the power of love subdues our will so that we long for only what we have and thirst for nothing else. If we desired to be more exalted, our desires would be discordant with His will, which assigns us to this place. That, as you will see, would not befit these circles if to be ruled by love is here required and if you consider well the nature of that love. No, it is the very essence of this blessèd state that we remain within the will of God, so that our wills combine in unity. Therefore our rank, from height to height, throughout this kingdom pleases all the kingdom, as it delights the King who wills us to His will. 'And in His will is our peace.  It is to that sea all things move, both what His will creates and that which nature makes.'
Dante. Paradiso (The Divine Comedy series Book 3) (Kindle Locations 1468-1555). Knopf Doubleday Publishing Group. Kindle Edition.
Click here to read the full Inferno online
Click here to read Purgatory online
Click here to read Paradise online
A map of Dante's Inferno:
---
Chap 1:  p. 22  Sarcophagi of Junius Bassus
another example of some art from a tomb in the catacombs.  This one from around 300 AD depicts Jesus as a Roman philosopher
Chapter 2   p. 26   The Book of Durrow
p. 26 The Lindisfarne Gospels
Chapter 3   Gregorian Chant
Youtube of the Spanish Benedictine Monks of Santo Dominigo de Silos:  https://youtu.be/x_FRuDCzlm0
An explanation and example of melismatic singing:  https://youtu.be/PRS2grauL4I
If you want to learn even more about Gregorian Chant, check out this youtube:  https://youtu.be/Igoh5kEqj3Y
Chapter 4 Ordo Virtumtum
Listen to an excerpt at https://youtu.be/wGPZWUNwLG0
A video of the entire production of Ordo Virtumtum:  https://youtu.be/zUMlhtoGTzY
A sampling of poems and prayers by Hildegard of Bingen   http://www.poetseers.org/spiritual-and-devotional-poets/christian/hildegard-of-bingen/hildp/
Hildegard de Bingen artwork:  https://www.wikiart.org/en/hildegard-of-bingen/all-works#!#filterName:all-paintings-chronologically,resultType:masonry
Chapter 5: Chartes Cathedral
For a pictorial tour:  https://www.youvisit.com/tour/makennaeccles
p. 36   "The Last Judgment"  
p. 36 Noah window
p.36 Rose window
p. 36  Hagia Sophia in Constantinople
p. 36 St. Sernin in Toulose, France
p. 38 Gargoyle pup
Chapter 6:  The Windows of Sainte-Chapelle
Exterior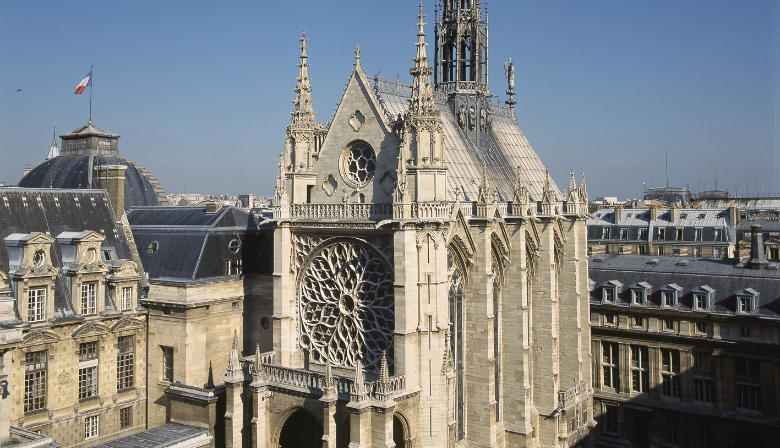 p. 40  Crown of thorns
p. 43  Stained glass window at Strasbourg
Stained glass at Siena Cathedral
William Morris stained glass
The Good Samaritan at Union Church by Marc Chagall